Good morning all,
I have just received a parking fine thought the post from ParkingEye (see below). I am not sure if this is a council monitored parking ticked or a private company ticket so please forgive if I have posted this in the wrong forum thread.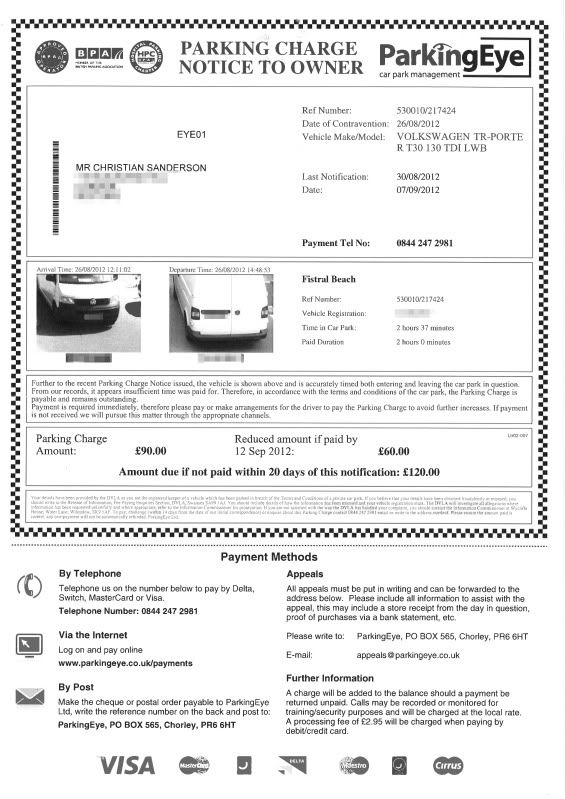 Whichever it is though I feel very hard done by.
On the 26
th
August I was in Newquay for a weekend surfing. The weather was shocking all weekend but we popped down to Fistal Beach for a quick surf.
We entered the very busy car park and got park after about 15 minutes of waiting then got kitted up which must have taken at least 25 mins. I then paid for 2 hours parking to have a quick surf. The surf was terrible so we were only out there for about an hour and returned to the van well within the 2 hours paid for. We then got dried off, kit put away and had a quick bite to eat and cuppa while in the van the proceed to leave the car park.
It's states on the fine that we were in the car park for 2 hours 37 minutes which is probably right but the van was only actually parked up for alone for just over 1 hour. The other 1 hour + was spent waiting for parking, kitting up, kitting down, drying, eating and trying to leave the busy car park.
There is nothing else provided with the fine as proof of time etc.. and would appreciate any help at all in appealing against this fine.
Thanks
Chris