NIP Details and Circumstances
What is the name of the Constabulary?
- Hampshire
Date of the offence:
- 14/11/06
Date of the NIP:
- 23/11/06
Date you received the NIP:
- 24/11/06
Location of offence (exact location as it appears on the NIP: important):
- Main Road, Southampton
Was the NIP addressed to you?
- Yes
Was the NIP sent by first class post, second class or recorded delivery?
- First
How many current points do you have?
- 9
Provide a description of events
- Unfamiliar road, didn't see the camera van until it was too late 51 in a 40
NIP Wizard Responses
These were the responses used by the Wizard to arrive at its recommendation:Have you received a NIP?
- Yes
Are you the Registered Keeper of the vehicle concerned (is your name and address on the V5/V5C)?
- Yes
Did the first NIP arrive within 14 days?
- Yes
Although you are the Registered Keeper, were you also the keeper of the vehicle concerned (the person normally responsible for it) at the time of the alleged offence?
- Yes
Were you driving?
- Yes
(Although following receipt of the summons bundle no longer sure!)
Which country did the alleged offence take place in?
- England
NIP Wizard Recommendation
Based on these responses the Wizard suggested that this course of action should be considered:
Complete the PACE witness statement.
___________________________________________________________________
Summons Received!
Okay, so this was some time ago and my sister (for whom these details have been posted) has sent off a PACE statement and ignored the three letters she has received since.
A couple of days ago the summons landed on her doormat and she has been asked to appear to face a speeding charge (S172 has been ignored unless it is due in a seperate pack).
Please find below the scanned images of each page of the bundle (excluding means forms / plea sheet etc).
I have masked specific details (indicated in red text) and added a couple of comments on some pages for anything I have already considered. Your thoughts would be gratefully received.
My initial thought is this...
- Plead Not Guilty
- Ask for the full video in the hope that it is inaccurate / not callibrated properly / isn't received
- If video isn't received hope that PACE is not submitted; argue if it is
- By this point there is no evidence
- If video is received and ID can be made change plea and focus on mitigation
Anyway, I'll hand over to the masters!
___________________________________________________________________
Page 1 - Summons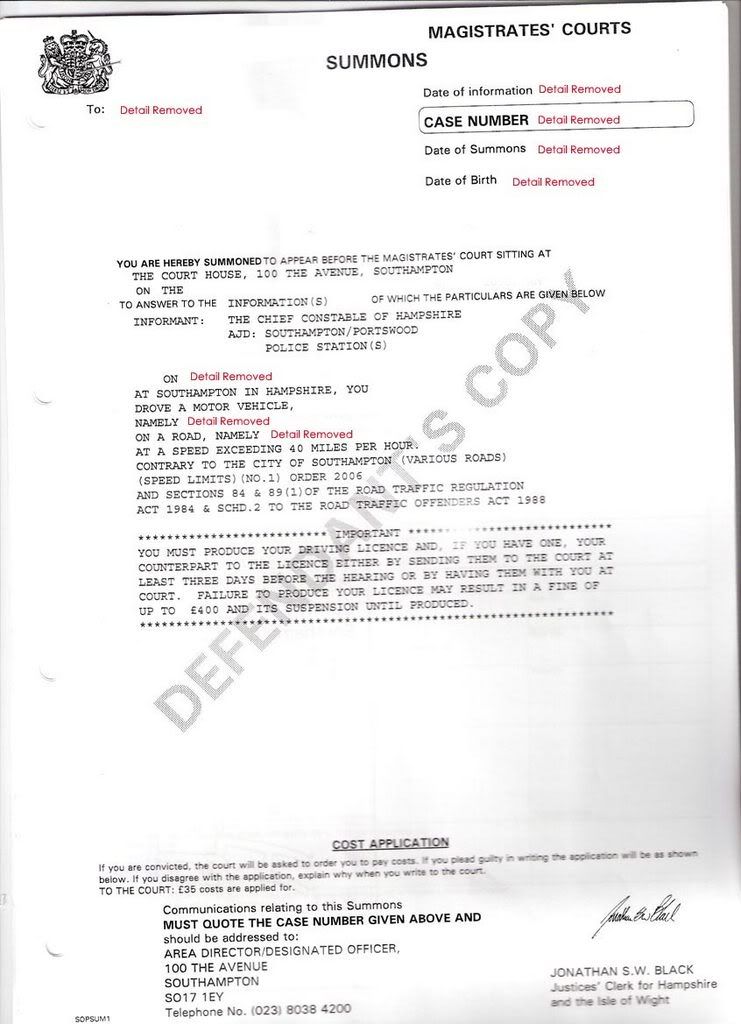 Page 2 - Statement
Page 3 - Statement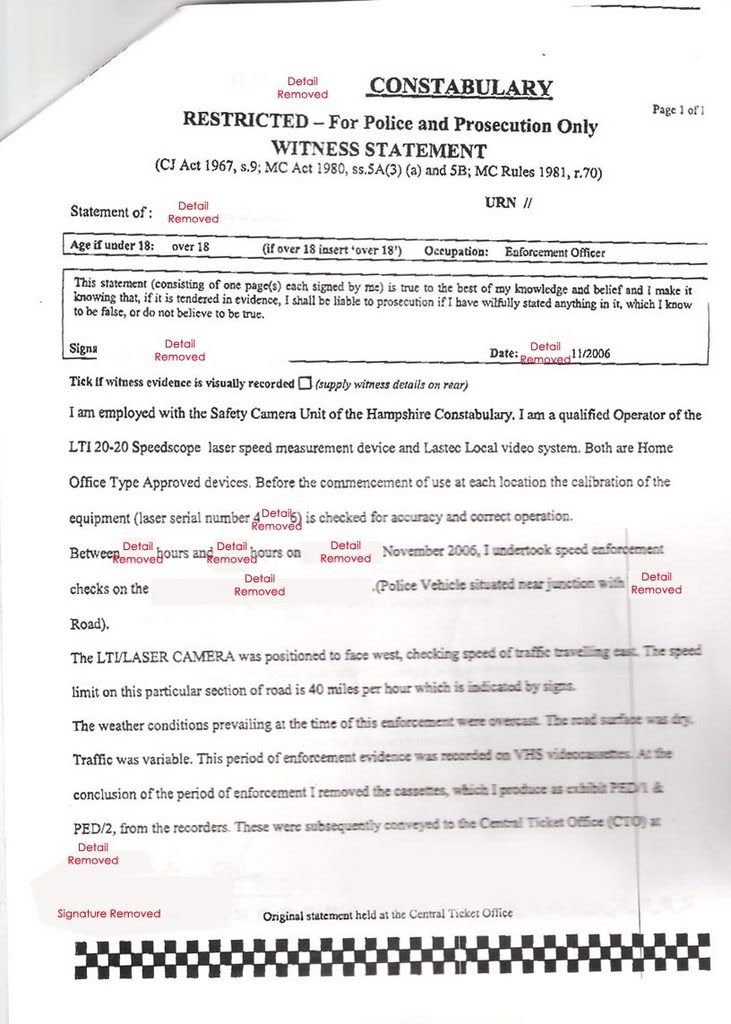 Page 4 - Statement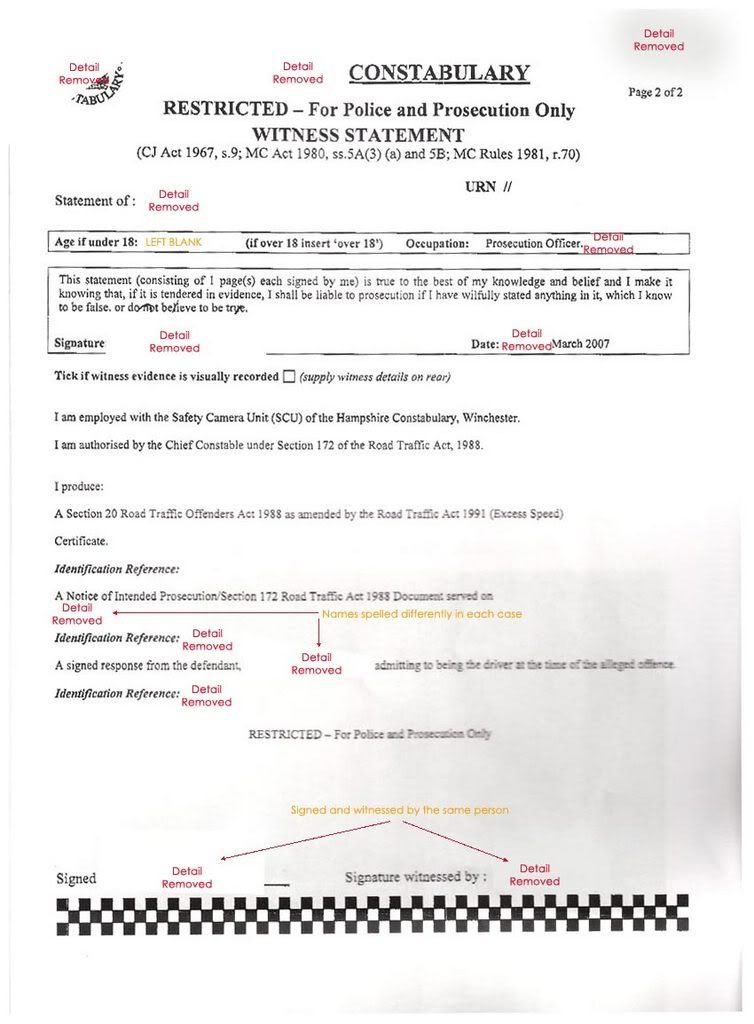 Page 5 - Statement & Photo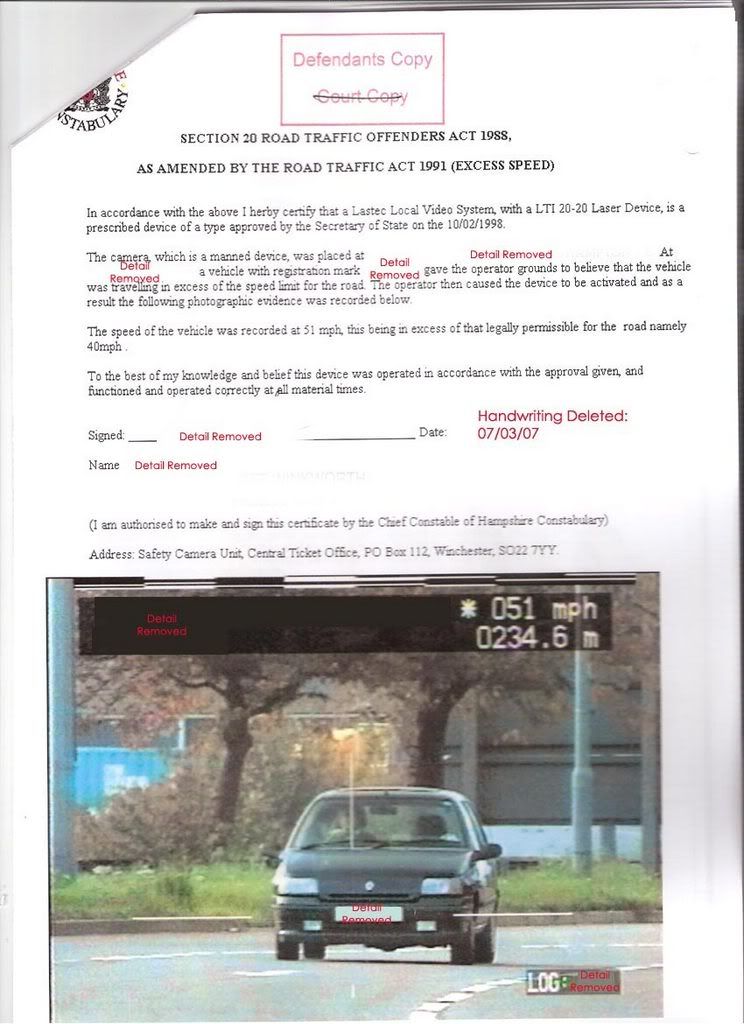 Page 6 - NIP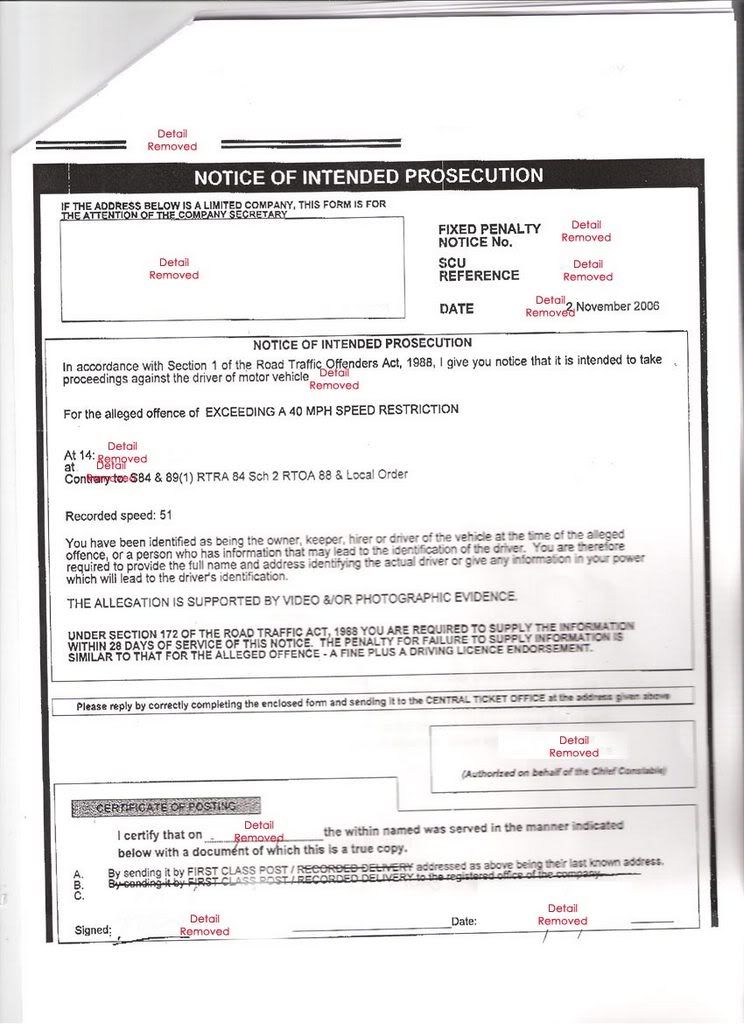 Page 7 - PACE Letter